If you are always on social media, you know Gifs and Memes are life. They get our day started and keep our insomnia entertained at night.
To be honest without them will some social media sites even be useful. I mean they take up the majority of our scrolling time.
The point is they are powerful , keep us smiling and speaks the truth most of the time. The wave of memes and gifs are keeping the millennial involved and aware.
In this post, I would like to highlight some that mostly stand out to me in helping me shape my identity and ofcourse has be screaming YASSS!
Let's hit you with a little bit of inspiration and celebration of our Afro-Latina pride, blackness, beauty and most of all of self-worth.
1.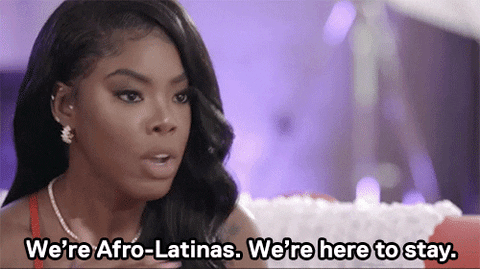 Juju Castenada, TV Personality, Author and Afro-Cuban Descendant always kept those in check when it came to spreading awareness about Afro-Latinos. Juju also refers to herself as a Chocolate Cubana, creating a space and using her voice to represent for dark-skinned Latinas. From her day one appearance on the hit reality show Love and Hip Hop: New York she has always stay true to her Cuban roots and culture. In that order.
2.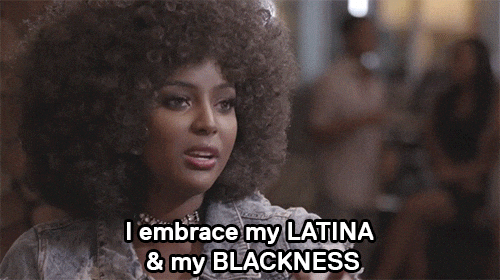 Amara La Negra, Singer, Actress and TV Personality  taught millions all over the world she doesn't have to choose. She too can embrace her Latina pride and wear her Blackness. Amara already had a huge presence in the Latino community through her music and dance. However, she made her mark as she raised awareness about the Afro-Latino community. I mean sis broke all barriers and went viral. We are all rooting for you Amara!
3.
The Afro-Latina community always existed, but there was a lack of representation among media, music, television, radio and across all forms of mass media. The community continued to raise consciousness about their existence in various ways. People began to listen and understand who we were. However this meme resonates as this is not a trend it is our identity !!
4.
Those who always assume the lighter skin friend is of Latino decent, meanwhile its actually you. But because they are ignorant and in their own mind erase blackness or darker skin people from the Latino culture.  I would just say boy bye!
5.
One of my favorite memes of our Queen of Salsa, Celia Cruz. The late Celia Cruz has paved the way for every last one of us. She was one of the first Afro-Latina musicians that I looked up to growing up who I felt looked like me. Celia has broke all barriers from her music and created one of the most relatable songs for all Afro-Latinas called La Negra Tiene Tumbao. If you don't know, please exit immediately and go listen.
Please check out our most recent blog post:
https://hashtagiamenough.com/2019/09/13/heal-first-create-second/
Keep up with us on instagram @hashtagiamenough